Customer Reviews
Our customers have given us a 4.8 star rating on Capterra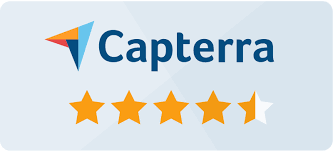 Would you like to know what our customers think of us? Read below!
"Teach 'n Go removes the frustration of managing hundreds of students daily. It's an elegant way to ensure your training business runs smoothly."
Andre, Spain
"We're extremely thrilled to have found Teach 'n Go. It helps keep us organized, and allows us to better focus on other areas of our business. Terrific work!"
Akis, Cyprus
"I can only describe the support from you guys as phenomenal. It's as if I'm your only customer. No wonder they call you heroes!"
Christopher, USA
"We are very happy with the platform and the service. It answers to everything we need. The tech team really know what schools are looking for."
Pim, Thailand
"Excellent. 100% up time and fast, friendly communication by the TNG team meant that you never felt on your own as a customer."
Josh, Australia
"The design is simple and very easy to use. No long training sessions are needed before using it."
Cecilia, Hong Kong
"The Teach and Go team have been always very approachable and supportive. They have listened to our needs and work hard to adapt parts of the software to our requests. They are also always available in the chat to solve any issues that come up on the daily work."
Diana, UK
"Overall I am very happy with Teach N Go, despite some initial woes. We now rely on it entirely for day to day class management, recording attendance, payments, issuing receipts and invoices. The technical support is second to none: prompt, efficient and friendly."
Tomasz, Ireland
"The ease of use and the simplicity of the set up was very appealing. The system is well tailored to larger and small educational facilities and allowed for quick updating of students parents and staff. Adding or amending people and courses was easily done and the fact we can store details of ex clients was also a top priority. We liked being able to have flexibility over privacy between staff and/or parents. The login process was simple and most clients used the system without difficulty - a bonus considering they are not mother tongue."
Ruth, Italy
"It has helped me with managing my school, teachers, parents, payments, lessons and it has improved my relationship with the costumers. I can also text parents, email them through the software and leave them notes for each lesson and document the lessons and homework. It has also offered a behaviour management system that students have instant access to and allows my teachers to have control of their lessons."
Evaggelia, Cyprus
"Our team liked the overall organization of the software. The tabs are clearly labelled and it is quite easy to navigate and use. Also, we liked how student information and class schedule are clearly organized and easy to search for on this software."
Jeremy, Canada
"Teach n Go has a modern, clean look that is very user-friendly, and streamlined. The subscription is affordable and meets the needs of our school."
Jena, USA
"The ease of the system is great. I find the whole integration of buttons with the interface to provide a great experience for student and teacher alike."
Philip, UK
Join users from 30+ countries
© 2013-2021
Teach N Go Ireland
is a registered business with the Companies Registration Office, Ireland.